A Reason To Smile Again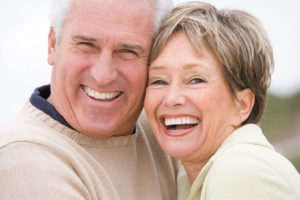 Can just four implants replace all of the teeth on the top or the bottom of your mouth? Thanks to advances in dental implant technology, that answer is a resounding yes.
Believe it or not, tooth loss is extremely common among adults, especially as we age. In fact, more than 35 million people in America are missing all of their upper and/or lower teeth. Rather than living with the discomfort and hassles of dentures, many people are opting for what is called "all-on-four" dental implant restoration.
One full arch of teeth, four dental implants
To fully understand this remarkable technique for replacing teeth, you should first understand what a dental implant is. An implant is a small titanium screw that fits inside your jawbone and replaces the root-part of a missing tooth. Minor surgery is required to insert the implants. Once the implant is in place, a crown is attached to give you a highly realistic-looking and functional prosthetic tooth.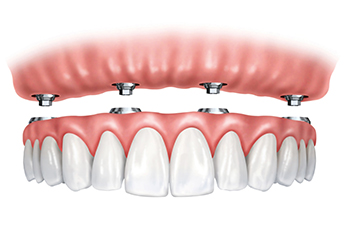 Here's where it gets really interesting: You do not need a dental implant for each and every one of your missing teeth. All you need is four precisely placed implants on the top of your mouth, and four on the bottom, to restore your full smile. That's the beauty of the all-on-four. And because the implant is made of titanium, it has the unique ability to fuse to living bone and function as part of it. So eventually, the dental implant becomes part of the jawbone and serves as a strong, long-lasting foundation for your new teeth.
Besides ensuring that your implants are permanently fixed in place, this bone fusion has another important benefit: it prevents future bone loss in the jaw. This helps to maintain a more youthful facial structure—and better oral health. But perhaps the biggest surprise about the all-on-four is how quickly it can transform your life.
You can get a radiant, new smile in just one day
By combining the precise technology of the all-on-four procedure with the expertise of our implant teams, Divine Dental has developed a way to give most patients a new smile in one day.
Here's why the all-inclusive approach at Divine Dental works for people who are missing a majority of their teeth:
Your dentist, lab technicians, and equipment are all state of the art
We're able to place the all-on-four dental implants and the arches of your new teeth in your mouth while you are fully sedated
You leave our center with a natural looking, fully functioning set of teeth
After your implants are done at Divine Dental, your new smile will look and feel great, but it's only temporary. You see, it takes dental implants some time to heal and fuse to your jawbone. Once that happens, you'll come back in and your team will replace your temporary teeth with a permanent, customized smile designed just for you.
How do you know if the all-on-four from Divine Dental is the right option for you?
Divine Dental offers a free consultation for first-time patients. At your consultation, you'll receive a free 3D CT Scan. This scan will help determine if you need implants and assist your doctors in creating your treatment plan. So if you want to learn more about dental implants and Divine Dental's unique all-inclusive treatment approach, simply schedule your free consultation. It's the best way to find out how dental implants can change your life.